Group mentor coaching sessions
Will you join me for my next mentor coaching group?
Estimated to start in June/July 22.
More info:
Incudes 3 1:1 mentor coaching sessions
Work in pairs and triads - get coached, observe and be coached
The sessions are designed to help you tune into your own learning edge to improve your coaching.
Short coaching demo's and debrief
Receive feedback and inspiration to improve your coaching.
Takes place online on zoom
Please note this is aimed at ICF trained coaches who are either working towards their ACC credential or who are looking to renew their credential. You will be expected to have a familiarity with the ICF core competencies.
Contact me for a free chemistry session to explore if it's a good fit for you.
1:1 mentor coaching
I currently have space to take on more mentees. I will review recordings of your coaching and give you precise feedback against the ICF competencies. I will offer you support and challenge to raise the bar for you in your coaching which in turn will help you create more impact for your clients.
Contact me now for an exploratory conversation to see if I might be the right mentor for you.
Feedback from previous mentees:
"My confidence has really grown"
"My contracting is much stronger"
"...even my "stretches" were delivered in such a positive and helpful manner, left me feeling very motivated after each of our sessions."
Inspiring Change Through Music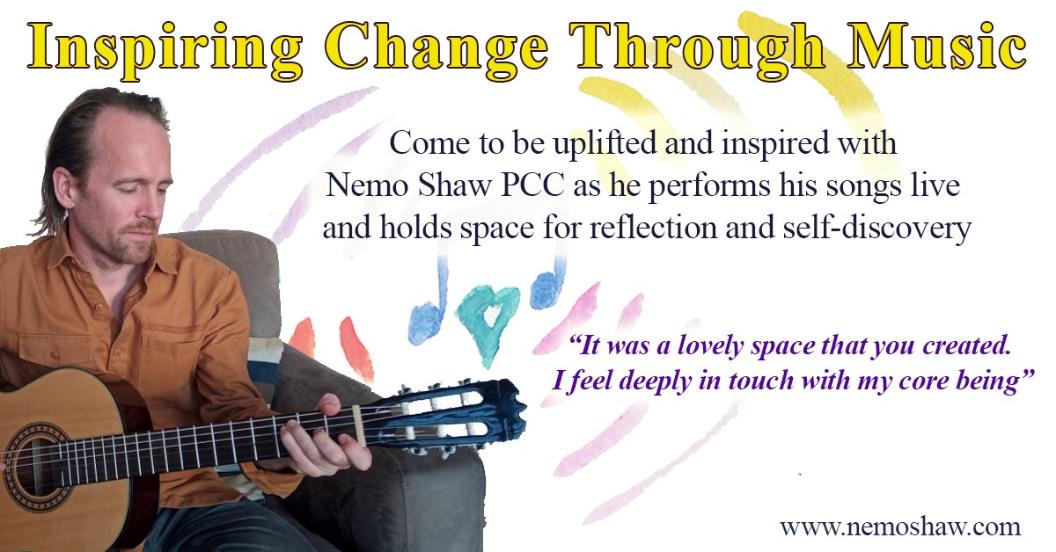 Feedback from previous participants:
"Thanks so much Nemo - it was a lovely space that you created and I feel deeply in touch with my core being, able and curious to discover new things and recover old treasures."
"I felt calm and focused, I also felt that I was able to operate in fearlessness as it was a safe space."
"The session was very calming a space to discuss our true thoughts and feelings. The lyrical content of the songs were extremely uplifting and almost gave us renewed permission to persevere and push through life."
© Copyright Nemo Shaw 2020