Thursday 21 May 2020 11am - 1pm
Making Online Meetings Fun!
Zoom Session
Tickets are £32 book your place at link below:
https://www.eventbrite.co.uk/e/making-online-meetings-fun-tickets-104237769976
An immersive and experiential training session to introduce methods and techniques to make online meetings fun, engaging and effective!
In this short but action packed workshop I will share with you some powerful approaches to help you hold amazing and fun online sessions of all sorts!
The content is designed on my 20 years experience of facilitation including techniques like Thinking Environment, Action Learning, playfulness and creativity. I've also been running a number of online sessions recently and I am bringing my up-to-date learning straight from the coal-face to you.
You'll be able to experience and reflect on a whole range of elements including how to get everyone involved and enthused no matter how big the group size. How to bring fun and playfulness into the sessions. How to create a safe and productive environment for your team or group to be uber-productive and get the most out of your time together.
My vision is to make all our interactions fun and engaging. So join me in quest to make online meetings something to really look forward to!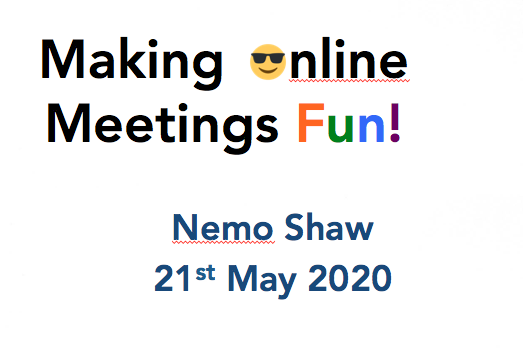 Sat, 29 Feb 2020 10:30
Career Catalyst Workshop in the Queen's Wood (Highgate)
Join Nemo Shaw for this 1 day workshop is designed to offer you space to reflect and explore ways that you can move towards a fulfilling and rewarding career - doing the work you really love. We will be based in the cabin at Queen's woods - next to the lovely cafe. An ideal setting to get away from the day to day and into a natural environment and it's just 5 minutes from Highgate station.
https://www.eventbrite.co.uk/e/career-catalyst-workshop-in-the-queens-wood-highgate-tickets-93257556863
© Copyright Nemo Shaw 2020