COACHING NETWORK RADIO
Tune in to your frequency
Season 2 of Coaching Network Radio starts on 22nd Jan 2021
"I kicked off my Friday in the most amazing way with Nemo's Coaching Radio Show - I was buzzing all day! Good conversation, inspiration, and positive direction for action. Can't wait for next week."
"A wonderfully inspiring way to start a Friday morning and some fabulous music thrown in. Thank you Nemo Shaw, PCC "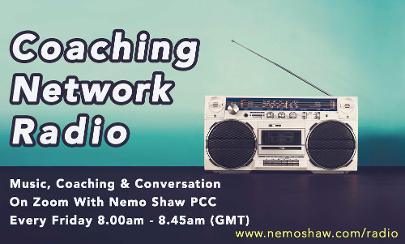 Your Friday morning dose of music, movement, conversation and coaching to keep you energised and focused.
Season 2 runs for 8 sessions, every Friday morning (8am – 8.45am GMT) from 22nd Jan through to 12th March. It takes place online in my zoom room. Each session is a mixture of music, check-ins, coaching, reflections and optional dancing to kick start your day and help you to stay focused on what you need to be focused on.
The subscription for the whole season is 'pay what you can afford' (suggestion is £30). Thisgives you access to as many of the Friday sessions as you like. Why not take advantage of this great affordable way to get some coaching and kick start your 2021!
I have decided to make the first session (22nd January from 8am – 8.45am) completely FREE, so if you are curious but not sure if you want to subscribe, then block it out in your diary now.
Fill in the form below if you are interested. See you there!
© Copyright Nemo Shaw 2020